The Mother Goose Nanny Agency Kenya matches and places nannies with employers which is the same thing the many existing nanny or house-help bureaus in the country do.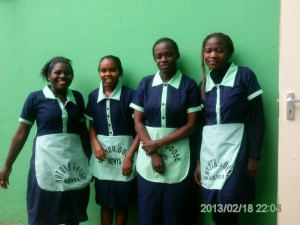 In several occasions, we meet parents who come to us in need of a trained nanny, but in the past they have had bad experience with many nanny bureaus. So the common question they ask us is:
"How assured am i that the nanny you give me will stay long enough with me and that you are not working with the nannies to work shortly and run away so that you earn the initial registration money?"
The answer is ,The Mother Goose Kenya is not any other bureau. We are different because:
We offer professionally trained nannies. We only offer nannies who have graduated from The Mother Goose Nanny School Kenya. Therefore, we have trained them ourselves.
We know them from their time at our nanny school. All our nannies have national ID and workers ID that give all the details of the person. Moreover, we do thorough background check of nannies before they enroll in the nanny school. All of them have no reported criminal activity.
We offer Matching and Placement process whereby both parent and a nanny get to know each other before employment contract is signed and are convinced that both of them will have a good working relationship.
Attachment program of students in private home benefit both the parties because  during this period the parent can find the best nanny whom can employ after attachment is over. The student also get orientation of working as a nanny.
Supervision of our nannies is a guarantee to parent, that we are there to make sure that we not only offer professional nannies to you, but we also follow up to make sure than our nannies work best to their knowledge and a good working relationship is maintained between the family and the nanny.
Any time, our supervisors go around to homes with our nannies to check out that our nannies are doing standard work and not sleeping in the work once the employer is out to work. By doing this, the employer is assured that all is working well without her or him having to worry of supervising the nanny. It is a stress free nanny service.
We offer a detailed Employment Contract that is important for the protection of each part interests, thus long lasting work relationship.
The agency holds seminars for nannies and once a time we also have get together both for parents and nannies. in any of these events, ideas on good parenting, child care and lesson on cooking are offered. it is important to hear both parties on different challenges they get to make life for each other better
Our nannies wear uniform all times when they are working. The dress code is important because it makes the nanny look professional and anytime they might be out in public and misbehave, then we can get feedback and deal with the issue.
There many other things that make us outstand from other firms offering nanny services and that is why many parents will always prefer us
That is what make us  the community of The Mother Goose Kenya, committed to offering professional and quality child care services.